Good Morning Texas showcases Dia de los Muertos
Good Morning Texas featured Kristine and Ryan Hughes with Hughes Family Tribute Center and Ricardo Alarcon with Grupo Pakal to showcase two favorite foods of Dia de los Muertos – la calavera de azúcar (sugar skull) and pan de muertos (bread of the dead.) A little secret – Donna Miller of Miller Consulting moonlighted as the baker for the show, making the pan de muerto the night before.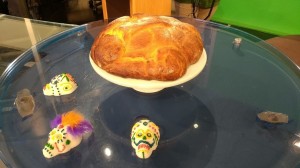 The Hughes Family Tribute Center presented its third Dia de los Muertos Festival featuring dance by Grupo Pakal, altar building and blessing; children's activities, and live mariachi music.