Boy Scouts Ziplining Away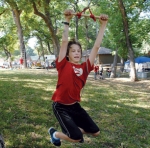 Scout-A-Palooza's the feature story in the Oak Cliff People, http://www.oakcliffpeople.com/2011/09/01/oak-cliff-people-090211
Boy Scout Troop 5 and Crew 5 hosted their first annual Scout-A-Palooza with water balloon fights, an awesome zipline, rope bridges, caveman golf, and tomahawk throwing and showcased Cub, Scout, and Venture programs. "Scouting is a values-based, outdoors program that helps young people build character, learn how to handle responsibility, develop personal fitness, make friends, and have a great time! We wanted to let more young people in Oak Cliff know about us," said Eric Pearle, Venture Crew 5 associate advisor.