Baylor University Louise Herrington School of Nursing goes for the Gold! Featured in Robert Miller's column for The Dallas Morning News.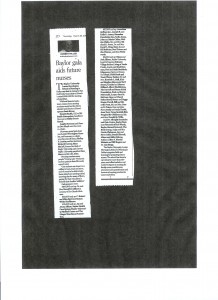 Baylor University Louise Herrington School of Nursing (LHSON) in Dallas, Texas announced that their Going for the Gold Gala Texas Style, held in March 2013 netted $520,000 towards nursing scholarships. Janis Kovar, Baylor University Louise Herrington School of Nursing director of development, said, "The need for scholarships is great and without financial assistance many of our nursing students would not be able to attend."
Emmitt Smith, CEO, EJ Smith Enterprises, Dallas Cowboys three-time Super Bowl Champion and winner of the hit TV show "Dancing with the Stars", and Scott Murray, Emmy Award-winning sports anchor, headlined the event at Eddie Deen's Ranch at Downtown Dallas.
Event co-chairs Angela Bowman and Donna Dee Floyd cooked up a good party, including Texas-style barbecue, country and western music, line-dancing, celebrity photos, a live and silent auction, and of course, star-power speakers.
Honorary Grand Gala Chair was Louise Herrington Ornelas for whom the nursing school is named. Honorary Co-Chairs were LHSON Dean, Shelley F. Conroy, and her husband, Richard Conroy, Mary McCall, former First Lady of Baylor University, and current Baylor University President Ken Starr and his wife, First Lady Alice Starr.
"Nursing touches many people. Regardless of background, education and experience everyone at some point in their life needs a good nurse," said Dr. Shelley Conroy, LHSON dean. "Our students are drawn to a calling to learn, lead and serve, and we want to be able to help them attend our nursing school, knowing that for many of them, paying for their education is beyond their families' abilities."
Added Ms. Kovar, "This year's Going for the Gold Gala Texas Style was Baylor University's second successful fundraising gala. With Baylor University First Lady Alice Starr's devoted help, the nursing school's recent two Galas have raised more than $1 million in scholarship funds in the past eleven months."
Going for the Gold Texas Style gala sponsors are listed below:
Golden Ten Gallon Hat Sponsor – $100,000+
Dr. and Mrs. Harold D. Gilbert in memory of Glenda Hickman, M.D.
Golden Tin Star – $50,000+
C. Robert and Ellen Byrd
Scott & White Healthcare
Baylor – Page 2
Golden "Yellow Rose" – $25,000+
Jay and Jenny Allison
Baylor Health Care System & Baylor University Medical Center
The Ginger Murchison Foundation