Astronauts Jim Lovell and Fred Haise – Exploration Space – Frontiers of Flight Museum 2017 Gala
Working with the Frontiers of Flight Musuem for its 2017 Gala, Exploration Space, was great fun. Just being around Apollo 13 astronauts Jim Lovell and Fred Haise, the evening's featured guests and winners of the George E. Haddady Award, was amazing.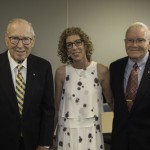 Pictured is Heidi Frankel, managing editor of The Senior Voice, with the famed astronauts. Check in with The Senior Voice for its September/October 2017 edition's spread on the Gala.